It's safe to say that eCommerce has effectively shaken things up in the retail world, and is not going anywhere anytime soon. In fact, it will only continue to grow in the years to come with sales predicted to reach $710.42 billion by 2025!
With online shopping rapidly gaining popularity, traditional brick-and-mortar stores are feeling the heat, and facing huge challenges. However, the game is far from over for traditional retail businesses. It's just a matter of understanding the impact that eCommerce has made and responding with appropriate adjustments and implementing the right tools, such as retail scales.
To make the most of this evolving landscape, let's dive in and explore the challenges that eCommerce has brought to the table, as well as the exciting opportunities that traditional retailers can seize upon to keep up with the times.
Increased Competition
eCommerce has drastically altered the retail landscape, posing a formidable challenge to traditional retailers: increased competition. No longer are they just competing with the store next door; now, they have to face off against every website offering similar products. Online retail behemoth Amazon has made shopping from the comfort of one's own home all too easy, while mega-chains like Target and Wal-Mart offer the convenience of both physical and online shopping.
And for local and regional stores, the competition is virtually limitless. Adding to the complexity, most competitors are located in the vast online marketplace, hidden from view. Alas, there's no easy solution to this problem. Retailers must differentiate themselves in creative and meaningful ways to stand out in the crowded field of options available to today's consumers.
Stores Are Smaller
As eCommerce gains momentum among consumers, traditional brick-and-mortar retailers are feeling the squeeze. Not only are there fewer retailers to choose from, but the stores themselves are shrinking in size. Across a range of industries, from drug stores to convenience stores, retailers are downsizing their physical footprints. This trend has led to reduced display space for products and less room for customers to move about, which presents a significant challenge for retailers. They must find ways to trim their product lines and maximize the smaller space to retain customer interest.
But amidst this challenge lies opportunity. Retailers can use their reduced space to focus on the areas of their business where they excel, becoming specialists in their particular niches. This approach can attract customers seeking expert guidance and ultimately help retailers stand out in a crowded marketplace.
Generation Gap
It's worth noting that the decline of brick-and-mortar retail is not a one-size-fits-all phenomenon. The trend is largely generational, with younger shoppers from the millennial and Gen Z cohorts showing a strong preference for online purchasing, while many baby boomers and seniors still prefer the traditional shopping experience.
Retailers with a significant base of older customers can take comfort in knowing that their clientele values the in-store experience, which can give them a leg up over their online competition. Conversely, retailers catering to younger audiences should anticipate that they'll face greater competition from eCommerce rivals, and they should be prepared to work harder to maintain their customer base.
Spoiled Customers
As if traditional retailers didn't have enough on their plate already, here's another challenge to add to the mix: today's customers are more pampered than ever. Even those who prefer shopping in physical stores have likely dabbled in online shopping and have grown accustomed to the convenience of finding what they need with just a few clicks. This means that when they do venture into a brick-and-mortar store, their expectations are high, and their patience is thin. If a product is out of stock or they encounter long checkout lines, they can quickly become annoyed. This puts a lot of pressure on retailers to up their game when it comes to the customer experience.
Retailers must find ways to streamline the shopping process and offer in-store services that can't be replicated online. To do so, retailers can get creative by thinking outside the box and incorporating new technologies and retail scales, such as smart shelves, self-checkout scanners, and even smart carts into the in-store experience.
These different retail scales will not only offer consumers convenience, and simplify the shopping process, but also, will secure a positive customer experience and ensure they keep coming back for more.
Educated Shoppers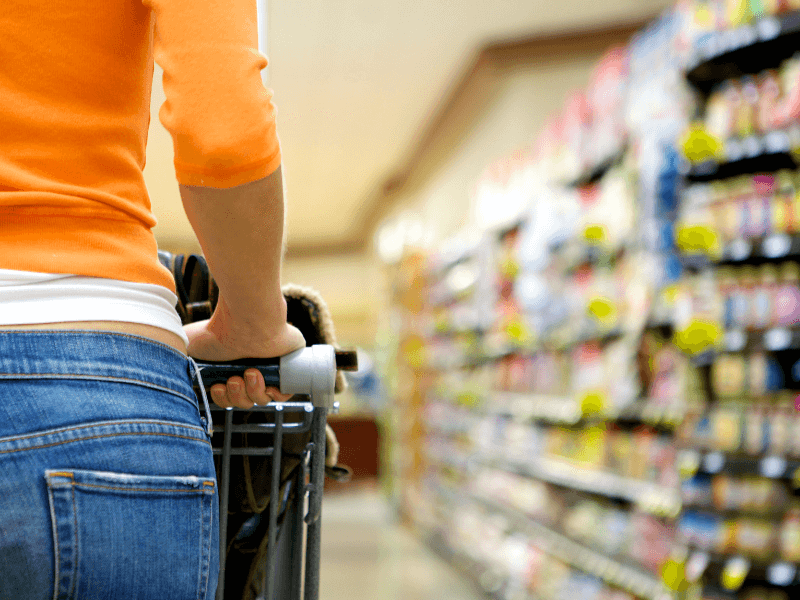 One byproduct of e-commerce is that today's customers are far more educated than in past generations. Even if consumers visit brick-and-mortar locations, there is a good chance that they've done their research on a product, especially if it's an expensive purchase. They will know a lot about a particular product, including its features and expected price. This can actually benefit traditional retailers because employees may not have to spend as much time educating customers about their different options.
However, traditional retailers also need to make sure that their employees are equally as educated about products as their customers. Also, informed customers might be less susceptible to up-selling and other sales tactics, making it more difficult to boost sales, even if educated shoppers prefer to make their purchases from brick-and-mortar retailers.
Influential Reviews
Online reviews have become an unavoidable part of eCommerce and the modern shopping landscape. In fact, product reviews are a big reason why today's shoppers are more educated than past generations. With so many reviews, salespeople are no longer able to influence customer purchases as much as before. Traditional retail businesses also need to monitor their own online reviews because too many negative reviews can persuade shoppers to avoid that store.
Granted, online reviews can help to point out a retailer's weaknesses so that they can be addressed. But by then, it might be too late to do anything about it. On the other hand, positive online reviews for a retailer can help to attract new customers. Either way, brick-and-mortar retailers need to be aware of what's being said about their stores online while also making sure they keep in stock the products that are getting positive reviews.
Providing Choices
With the eCommerce landscape growing, customers have more options than ever before. This is a huge challenge for retailers because they have a limited amount of space and can't offer every possible product on the market the way large eCommerce companies can.
Customers also have the option of choosing stores that check off certain boxes. For instance, some shoppers will only give their business to eco-friendly businesses. Unfortunately, there is no easy solution to this problem because there is only so much that traditional retailers can offer. The key is for a business to understand its target audience as much as possible, by collecting valuable insights on their needs, pain points, behaviors, and shopping habits.
Retailers can turn to innovative retail scales, like smart checkout machines, to gather valuable insights, and then use that information to cater to their customers as best as they can. By doing so, they'll be able to win over customers who are looking for specific features, and they'll be better positioned to compete with the ever-growing number of e-commerce businesses out there.
All About the Industry
Unfortunately, whether a traditional retail business can still survive and thrive is often decided by its exact industry. Certain product categories are less vulnerable to eCommerce competitors than others because some products are more challenging to purchase online than others. The challenge is for individual retailers to understand if they are going to be vulnerable to eCommerce competitors or whether changing their business model to offer products that must be purchased in a brick-and-mortar location is a realistic option.
Keep Evolving
Perhaps the biggest lesson that traditional retailers can take from the growth of eCommerce is the need to continue to evolve with time. No matter the industry, any business that fails to change and adapt over time is destined to fail. Whether it's new technologies, changes in consumer demands, or other types of changes that occur, retailers need to find a way to keep up.
At the end of the day, eCommerce is just the latest trend to come around that is forcing businesses to adapt. As long as traditional retailers can be aware of the changing environment and find ways to evolve with the rest of the world, they will find a way to survive and thrive.
Are you prepared to keep up with the ever-evolving retail industry? If so, we're here to lend a hand! Our cutting-edge retail scales are available now to help you stay competitive with the big players and distinguish yourself from the rest of the market. Don't hesitate, and check them out today!