In the ever-changing world of retail, one thing is certain: the landscape has undergone a dramatic transformation in a short span of time, and further changes are on the horizon. To thrive in this dynamic environment, retailers must keenly understand upcoming trends and adapt accordingly, particularly in terms of point-of-sale (POS) systems.
POS operations of the past are going to look distinctly different from those of the not-too-distant future. With that in mind, let's take a closer look at some of the current and upcoming POS trends that are going to help shape the future of retail and how modern retailers can best keep up with the changes that are coming.
Untethered POS: Empowering Sales Anywhere
The days of fixed checkout counters and cash registers are fading away. The advent of mobile Point Of Sale systems, one of the most evident trends reshaping the retail scene, has revolutionized how transactions are conducted in retail stores. These handheld devices empower employees to complete sales directly where customers are, eliminating the need for customers to traverse the store to make a purchase. 
The flexibility of untethered POS allows for quicker transactions, especially for larger items that customers may not want to carry to the front of the store. Moreover, this flexibility enables retailers to offer curbside pickups and off-site sales, broadening their service options and potential sales opportunities.
Even if retailers continue to have a traditional checkout counter, it doesn't preclude them from having an untethered mobile Point Of Sale system that can go anywhere.
New Payment Methods: The Rise of eWallets
Accompanying the shift in mobile point of sale systems are evolving payment methods. With barely 10% of POS transactions these days being cash-based, retailers need to remain flexible in accepting different types of payment. In other words, it's no longer a decision between cash and credit.
Customers now rely heavily on e-wallets linked to credit cards, bank accounts, and loyalty programs. As cash transactions continue to decline, retailers must equip their POS systems to accept these varied forms of payment, appealing to a wide range of customers, particularly the younger tech-savvy generation.
Long queues and time-consuming checkouts are no longer acceptable to today's consumers. Customers demand efficiency and speed, and retailers must ensure their POS systems cater to these expectations. Whether through mobile or touch-free options, POS systems must deliver a seamless and efficient checkout experience for customers. 
Retailers must prioritize quick and painless transactions. By reducing waiting times and streamlining the payment process, retailers can keep customers satisfied and minimize the chances of customers changing their minds about a purchase.
Personalized Customer Experience: Going the Extra Mile
In addition to catering to the different types of payment methods used today, POS systems are also giving customers a more personalized experience. In fact, many consumers have come to expect a more personalized retail experience, which means retailers that aren't keeping up are putting themselves at a disadvantage compared to competitors. 
More advanced POS systems are able to collect information about customers based on their purchases and engage with them in new ways. This could be offering them rewards or making product recommendations. Doing so makes customers feel as if they are special, helping with brand loyalty and overall satisfaction. This is certainly going the extra mile for customers, but in some cases, consumers don't mind paying more for products if they are going to have a more personalized POS experience.
Data Collection: Empowering Informed Decision-Making
Along those same lines, retailers are using POS systems to help collect customer data and gain insight into consumer behavior. Since modern POS systems are more than just a cash register, they can collect information in real time about what customers are buying, when they're buying it, how much they're spending, and any other potentially relevant information. This is the type of information that is used to help give customers a more personalized retail experience.
Modern POS systems that can collect and organize data about every sale that takes place will aid retailers in identifying sales trends, determining the most popular products, and predicting trends for the future. This data can help retailers keep the right items in stock and make decisions about what products should be advertised or need a price change. Modern retailers are doing themselves a disservice if they aren't using this information to make decisions about the business, and it all starts with having a POS system that's capable of collecting and analyzing data.
Customer Loyalty: Building Lasting Relationships
As mentioned, personalized customer experiences and data collection can help to promote customer loyalty. It's more important than ever for retailers to keep the same customers coming back, which is a little easier with the latest POS systems.
Today's POS systems can provide a familiar checkout experience for consumers in addition to recommending products and offering loyal customers rewards. Older POS systems aren't necessarily capable of doing this. But by keeping up with today's POS trends, retailers are better positioned to promote customer loyalty, which will ultimately increase sales.
Multi-Channel Commerce: Seamlessly Connecting In-Store and Online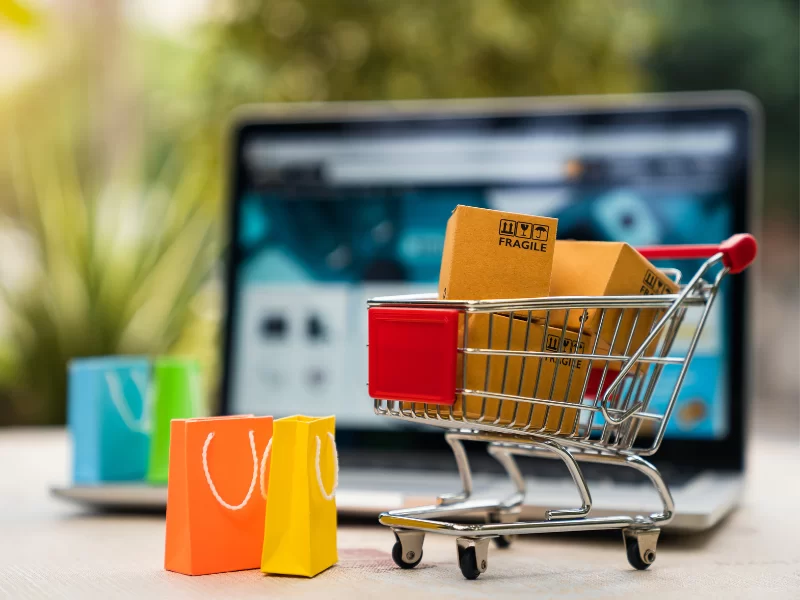 Another critical trend for POS systems is the ability to operate simultaneously across multiple channels. In other words, retailers are able to connect in-store sales with an e-commerce marketplace on the same POS system. Even for small retailers, it's hard to succeed in today's world without some form of e-commerce presence. This opens the door to make sales 24/7, allowing customers to purchase items that get delivered or picked up in-store after the purchase. Needless to say, this can boost sales while also reducing operating costs and employee-customer interaction.
Of course, the key to all of this is having a POS system that can operate in-store sales and e-commerce sales simultaneously. This is why most retailers are incorporating a POS system that can accomplish this. Modern POS systems can make sure that in-store sales and online sales are treated the same way when it comes to processing payments and managing stock.
Ultimately, this will allow retailers to operate across multiple channels without any added stress because of the convenience provided by modern POS systems.
Cloud-Based Software: Leveraging the Power of the Cloud
The one prevailing trend throughout POS systems is the reliance on cloud-based technology. In fact, many of the other POS systems trends that are changing the retail industry are made possible because of the cloud. The information being collected by POS systems needs to be accurate and up-to-date, but it also needs to be completely secure.
The cloud makes it possible for retailers, especially small businesses, to operate and maintain a comprehensive POS system that can complete transactions and collect critical sales data in real-time. Obviously, tablets and other forms of hardware are integral to the growing trends in POS systems in the retail industry. But a lot of that is contingent on operating within the cloud, which is why by 2024, it's expected that roughly 50% of retailers will be operating their POS on a cloud-based system.
Successfully Navigating the Dynamic Retail Landscape
Staying ahead in the rapidly changing retail world is crucial for the future of your business. By embracing the trends outlined in this article, retailers can unlock new opportunities and maintain a competitive edge in the ever-evolving landscape.
Curious about how our experts can assist you in keeping up with these trends? Reach out to us today! Our solutions are tailored to elevate your retail business to the next level. Don't miss out on the chance to thrive in this dynamic market!